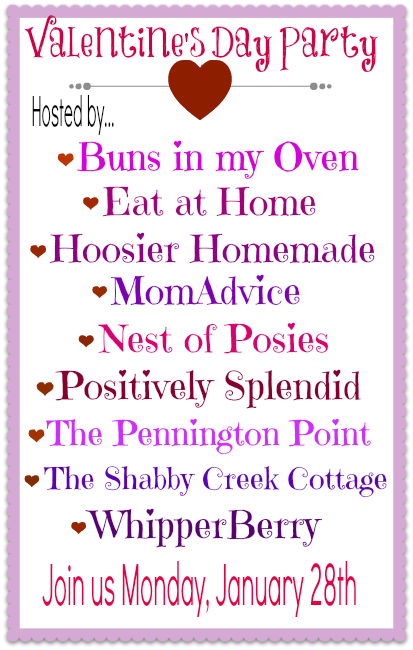 I'm excited to be teaming up with 8 other bloggers to host the 2nd Annual Valentine Week Party! Last year's week long event ended in a great party with 275 Valentine's Day projects added!  At the end of this post is the linky for you to add your Valentine's Day project.  You can add your Valentine's projects on any of the blogs and be seen on ALL 9 of them! That's over 100,000 readers that will see your projects!
Meet your hostesses…
I'm excited to share my Valentine's Day project with you:
Have you seen the cute frozen whipped cream hearts on Pinterest?  I've seen a few versions.  I'd like to give credit, but I really don't know where I first saw them.  It's one of those ideas that have made the rounds.
I decided to try flavoring the whipped topping.  I made Raspberry and Caramel.  In the photo, the Raspberry heart is in a cup of white chocolate hot cocoa.  So good!  Especially for a store bought mix.
These hearts are easy to make.  They have a subtle flavor, enough to enhance the hot cocoa without overpowering.  Here's what you'll need:  
This is more method than recipe.  I used one container of frozen whipped topping, thawed.
For the Caramel Hearts, I folded 2-3 Tbs. of caramel topping into the whipped cream.
For the Raspberry Hearts, I used 2-3 Tbs. of raspberry flavored syrup (like you find in coffee shops).  I also used a few drops of pink food coloring to make it pretty.
Spread the flavored topping on a parchment paper lined cookie sheet.
Pop the cookie sheet in the freezer for several hours or over night.  Then use a small, heart shaped cutter to make the hearts.
That's it!  Float them in your hot cocoa and celebrate a sweet day!
I've also been using the flavored topping to dip my animal cookies.  Yum!
Now you can link up your Valentine's Day project.  I can't wait to see what you've got!  Be sure to leave a link back to one of the hostesses blogs.

'); // ]]>